In order to support the smooth reopening of shops, Dahua launched its SMB Resumption of work – Smart Shop Solution. This solution offers temperature monitoring, people flow control, built-in face mask detection and social distancing reminder, which can help ensure a safe shopping environment for both customers and staff during this special period.
Highlights
Employees don't need to stand at the door all the time.
They only need to assist incoming customers when the number of people inside the shop is reaching the threshold.
Dahua's deep learning algorithm for social distancing reminders, assisting the store staff to improve work efficiency.

The solution Features face mask detection for intelligent control with face mask detection rate of >95%.
The number of people inside the shop are also monitored and displayed on the screen with 98% accuracy, eliminating the need for manual counting which is often inaccurate especially if there are multiple entrances.
Dahua's Smart Shop Offers safe, efficient non-contact temperature monitoring. Monitors the number of people inside the shop. Helps to maintain social distancing in the shop. Face mask detection provides "no face mask reminder" that enhances public safety awareness.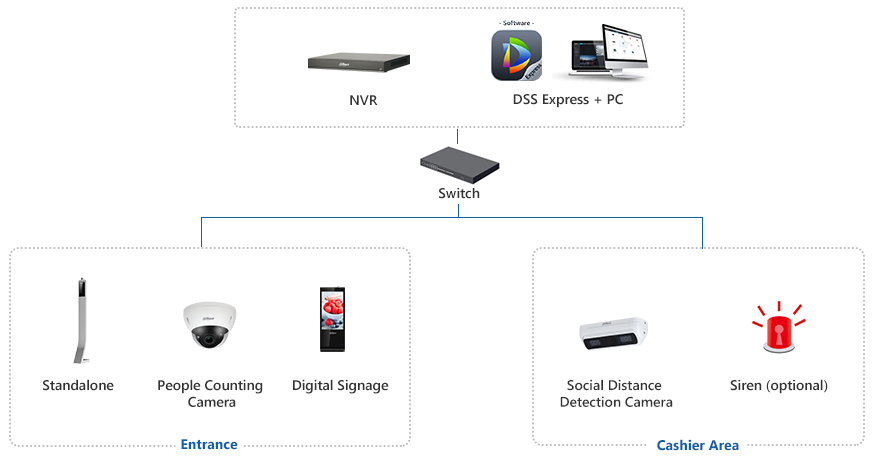 Run a Smarter and Safer Store
Compared with online sales, physical retail stores face more challenges. Dahua smart shop solution uses a full range of video surveillance, supplemented by AI intelligent algorithms, to cater to and attract customers. Dahua smart shop solution adopts a more convenient management method, which can timely receive alarms anytime, anywhere, and improve management efficiency.
Footfall Analytics and Perimeter Protection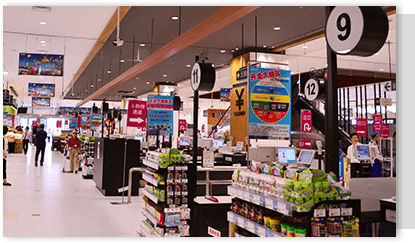 Unmanned Safeguarding——How to protect stores during non-business hours
Footfall——Understand how many people come to the store and when they come.
Perimeter Protection
Mobile client can receive real-time alarms when someone comes in or out during non-business hours.
People Counting
Identify traffic cycles across the day, month, or year. Adjust. customer-to-staff ratio during peak hours with flow data.
Surveillance without blind spots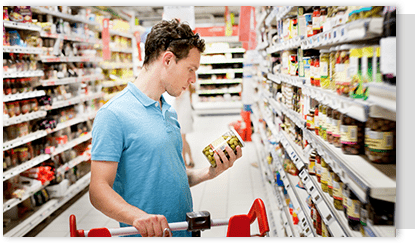 How to reduce loss caused by shoplifting, theft, etc.
Which is the most popular area in the store.
How to improve marketing effectiveness.
Fisheye Camera
Full view of store(1 fisheye=8 conventional camera)
Predict customers' needs and equip your store to meet their preferences with heat map.
Dome Camera
Corridor mode is suitable for the store floor.
Zoom camera provides more details for important areas.
Ad Display
Maximize the effectiveness of your marketing campaigns.
Update ads in time to attract customers.
Store Room
How to protect the assets especially at night.
High-quality surveillance video provides visual evidence in time.
Effectively deter internal theft.
System Topology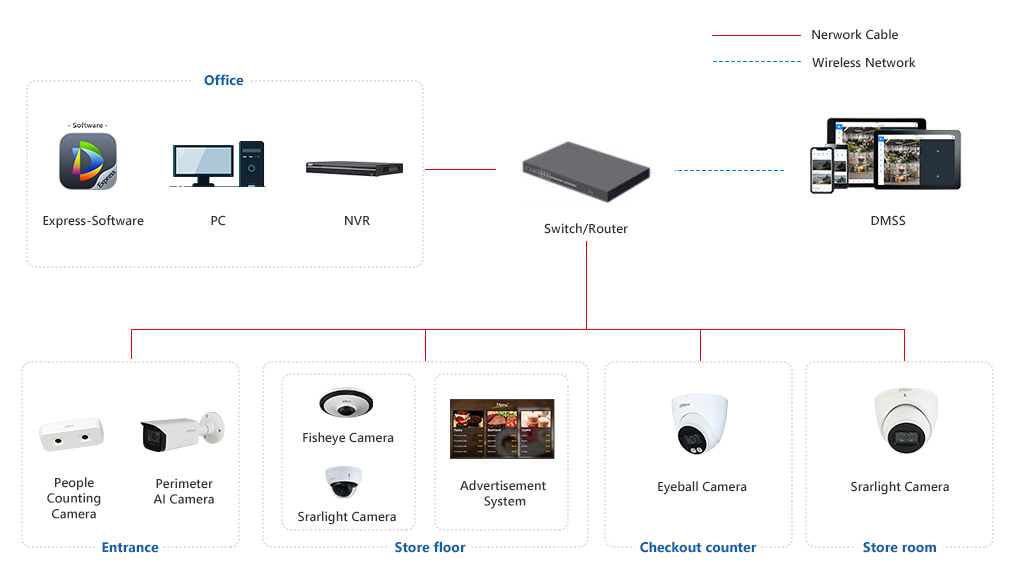 Contact MyMESS.Online for more information or visit our range of Dahua CCTV solutions HEAR